The best way to get to know Prague, its history and present and the most important sights.
25 Cafés in Prague
31 Republic Square & The Powder Tower & The Municipal House
49 Ungelt
96 St George's Basilica
More >>>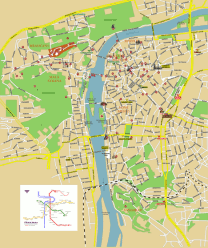 Do you plan to visit Prague?
You don't like organised tours of the city during which you're restricted by the other tourists and limited in time by the guide?
If so, then you're in the right place.

Our travel agency has prepared an ideal solution for you in the form of the Audio guide Prague. Once you've paid 499 CZK (i.e. about EUR 19,9) you'll be able to download:
100 MP3 recordings in English, including general information about Prague and the Czech Republic, and of course descriptions of the most important and most interesting sights in the historical centre of Prague.
A map of Prague's historical centre with numbered markings of the places with recordings.
A list of the recordings.
Several discount coupons (e.g. for shops with Bohemian crystal, typical Czech restaurants, etc.).
A list of useful telephone numbers (e.g. police, ambulance, embassies, where to call in the event you lose your credit cards,...)
You'll be able to listen to our audio recordings on any MP3-supporting device – e.g. iPod, mobil phone, etc.
Aren´t you familiar with downloading?
Or do you prefer any other language than english?
Then we have another solution prepared for you - Audio guide Prague package. Once you've paid 1190 CZK (i.e. about EUR 48) you'll receive our order form. Just let us know the date when you will be in Prague and at which hotel. When you arrive, ask for your package at the reception desk, it will already delivered there for you.
For one price you get:
MP3 player, headphones & batteries.
100 MP3 recordings available in English, Deutsch, Español, Pусский язык, Italiano, Français, 中文版, 日本語.
Each language version includes:

25 pieces of general informations
75 descriptions of the most important sights in the centre.

A map of Prague's historical centre with the list of the recordings, useful telephone numbers and several discount coupons.
Delivery service of the package to your hotel.
More information on our Audio guide
The explanations are in an unconventional, fun and at the same time enlightening form of conversation between a Prague guide, Anna, and a tourist, Tom. Tom asks Anna about almost everything you'd ask yourself. For the most authentic listening experience the voice of Anna is provided by a native Czech, who speaks fluent English, and for Tom, of course, we borrowed a native-English speaker's voice.
The conversations are tastefully and thematically accompanied by music and various sound effects. You can get the best impression by listening to the free samples.
The whole project is founded on the basis of many years of experience of Prague tour guides.
You can find a list of the themes and visited sights in the section entitled List of Recordings. You can also get a good idea by looking at the map of Prague.
ARE YOU INTERESTED?
If yes, don't delay and buy our Audio guide Prague.
Why should you buy the Audio guide Prague?
You can download it and prepare in the comfort of your own home, therefore saving lots of time during your actual visit to Prague
For one price you get:

a description of many general themes which interest all visitors to Prague
a description of the WHOLE historical centre of Prague and its sights, not only parts as is usual with other companies

You'll be able to completely time the tour of Prague according to own personal and time needs
You will just choose the section you are interested in listening to and go where you want
During your visit in Prague

you won't need to carry a heavy guide book around with you
you won't lose time trying to find tourist service places
you won't be constrained by the needs of other tourists in the group
In short, you'll be completely free and at the same time you'll get to know Prague through the eyes of a local tour guide.
Buy the Audio guide Prague and


BECOME YOUR OWN PRAGUE GUIDE!
In the name of the Audio guide Prague travel agency we wish you a pleasant and relaxing visit to Prague.